Volleyball scholarships in the United States
Combine your academic studies and high-level training
Why apply for a Volleyball scholarship in the United States?
With a Volleyball scholarship, you can combine your studies and high-level training at a university with excellent facilities. This will help you improve your future career prospects.
Collegiate Volleyball is mainly a women's sport with over 1500 women's teams and about 100 men's teams. There are hundreds of programs which offer Volleyball scholarships at American universities.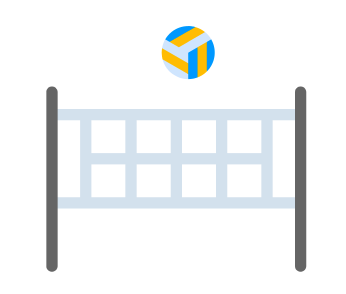 Volleyball scholarship requirements
Academic requirements
Baccalaureate (or equivalent in the country of origin)
Required TOEFL score
Required SAT score
*Depending on the university you apply to, the required score in these exams varies.
Sports requirements
Be a high-performance athlete
SAT and TOEFL test preparation
These are essential requirements to qualify for a scholarship. For this reason, we offer preparation classes and tutoring to ensure success in these tests.
The right university for you
Considering that there are hundreds of universities with these types of programs, it is vital to choose those with the best scholarships. We help you choose your college and guide you through the paperwork.
Free evaluation
Reserved only for the best. Scholarships that cover your tuition fees are a reality in these programs. Study for free in the United States and achieve your dream of playing at professional level.
Frequently Asked Questions
How can I get a volleyball scholarship in the United States?
To qualify for a volleyball scholarship, you must have a strong academic record and compete at a high level.
Given that the selection process is standardized and there are hundreds of applicants, it is important to get professional advice to achieve the best results.
What are the scholarship requirements?
There is no simple answer to this question. There are different levels within universities and although the average level is very high, there are also possibilities for players who do not compete at the highest tier. For each position on the team the coaches evaluate a series of parameters, making it essential to begin your high-performance training early so that they can track your development.
What are the top programs in each division?
The following universities typically hold the top national rankings: Florida Women's, Stanford Women's, California, USC, Texas, Penn State University, UCLA, Washington, Minnesota, Illinois, LSU Arizona, Cincinnati, Tulsa, Stanford Men's, Brigham Young University, California State Northridge, Pepperdine, UCLA, UC Santa Barbara, Loyola and Ball State.
Decoasports informs you that the personal data you provide by filling out this form will be processed by DecoaSports Servicios Académicos y Deportivos S.L. as responsible for this website.
Purpose of the collection and processing of personal data: to manage the request you make in this contact form.
Legitimation: Consent of the interested party.
Recipients: One.com (hosting provider) within the EU. See One's privacy policy.
You may exercise your rights of access, rectification, limitation and deletion of data at info@decoasports.com as well as the right to lodge a complaint with a supervisory authority. You can consult additional and detailed information on Data Protection on our website: decoasports.com, as well as consult our privacy policy and cookies policy.
The interested party gives his consent to the processing of his personal data for the aforementioned purpose.